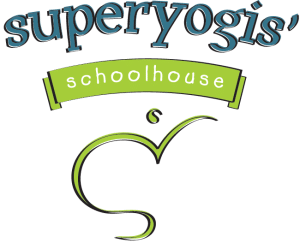 Introducing Superyogis' Schoolhouse, Rina Yoga's pioneering yoga-inspired curriculum for kids and teens that teaches them life skills, coping mechanisms, movement, values and most importantly, fun!
Superyogis' Schoolhouse Mission:
To help kids empower themselves by teaching them life skills like:
1. how to focus
2. healthy coping skills
3. how to communicate better
4. tangible yoga practices for daily life challenges
ALL WITH A LOT OF LOVE and TONS OF FUN!
SUPER YOGIS KIDS & TEENS CLASS
Rina Jakubowicz designed the Super Yogis Teens class as a place for teens to get together and share similar issues. We explore how to be more peaceful and grounded with practical life skills taught in the Yoga Sutras of Patanjali. The teens are given healthy tools that help them decrease their stress in addition to helping them cope with certain emotions that they might otherwise turn to drugs, drinking or any other unhealthy scapegoat for. Giving them an open forum to completely be themselves without judgments or expectations has proven to bring them a breath of fresh air and help them be their true age. For Rina, it has been a blessing to give them that opportunity – one she wishes she had in high school herself. The class consists of interactive discussions, breathing exercises, meditation and physical practice (asana.)


Super Yogis Teacher Trainings Available! Schedule a training in your hometown today! Email rina@rinayoga.com for more information on Rina's schedule and how to start this process.
LIKE US on Facebook
Check out Coral Gables TV's story on our program!
"I am so excited to have created a learning environment that I would've liked to have gone to when I was that age. And now that I have the yoga background I can teach kids some of these life lessons, but in a fun and supportive environment. Really empowering them to live a way a life that serves them and others mutually." – Rina Jakubowicz
We'll explore yoga poses, story-telling, art, games, music, theater, gardening, movement, communication techniques, embracing emotions, improve play time, nutrition… All learning is based on fun, feeling empowered and being uplifted!
Although children may be little in size, they are big at heart!
Testimonials for Superyogis' Schoolhouse
Check out a mom blogger's blogpost about Super Yogis' Schoolhouse here.

Testimonial from Mother of two boys, Libby Gonzalez: "The first time Rina met my youngest son Jordan, who is an infant, I really could not hold my tears because his reaction to just hearing her voice made my heart happy. He would just look at her and smile. I've always felt that children are so innocent and genuine and my boys are totally drawn to her. My oldest son, he's 6, loves Rina- he's always interested in learning about my  "cool yoga moves" which inevitably gets him involved. It's a win/win for me, I get to practice with my boys and he stays active! He's even "OMMM" with me before. I cannot explain the gratitude I have for Rina and all that I've learned from her and now being able to pass along to my kids is truly a special gift."

Testimonial from Summer Sullivan, Ph.D: As a child psychologist, a Rina Yoga student, a mother, and a longtime friend of Rina, I wanted to write this testimonial to express my admiration and support for Rina Jakubowicz' Superyogis' Schoolhouse. It is our job as parents, caregivers, and educators to preserve in children what they are born into this world already knowing; that true joy and well-being comes from the synchronicity of the mind and body. A child whose mental, emotional, and physical states are in harmony is able navigate their personal, social, academic, and spiritual world with grace and confidence. Rina's Super Yogis' Schoolhouse provides children with all the tools necessary to obtain this harmony and instills in children a lifelong appreciate for self and others as well as vital tools for self-regulation. It is a true blessing that she is providing this service for our community and I cannot wait to send my own son there. The benefits of attending her school are endless and the lessons learned can help reduce aggression, bullying, emotional disorders, poor self-esteem, and behavioral problems.  Thank you Rina for making the world a better place through your dedication to our children."
Enroll your child in a new way of entertaining and learning – all while learning how to relax and get focused!
Email rina@rinayoga.com for more information or to apply.
5 Reasons Why Your Child Will Love This New Approach to Fun and Learning!
It's fun and freeing… kids explore in new directions.
It's interactive…  kids have the opportunity to build new friendships and strengthen older ones.
It's heart warming… kids have the opportunity to shift from "me" to "we", feeling supported and accepted at all times.
It's healthy… kids get to exercise their heart as well as their head, their body, their creativity and their spirit.
It's mindfully-disciplined… kids learn that their focus of control is within themselves.