Rina Yoga's unique 200+Hour Yoga Teacher Training
with Rina Jakubowicz for 2014!
In this training, you will learn from Rina's own in-depth Teaching Tool Kit. Rina can assure you that after this training you will be equipped with all of the necessary tools to become a successful and effective yoga student and teacher.
This training is an empowering and unique program that will take your practice to new heights while providing you with the skills to flourish as a yoga teacher. Get ready to immerse yourself in asana practice, meditation, philosophy, chanting and infinite surprises. Join us for twelve weeks of tremendous growth, learning and fun!
Top 5 Reasons To Train With Rina Yoga
1. You will learn and experience yoga, not just memorize terms and sequences.
2.We offer personalized attention, practical tools and hands-on experience.
3. Rina Jakubowicz, E-RYT created her own in-depth Teaching Tool Kit and wrote her own manual not found in any other training.
4. We offer a unique 3-month internship after the 3 months of training included in the training.  You will be confident in  your teaching ability after you complete this training.
5. We are one of the more affordable trainings in Miami.
Intensive Teacher Training: The first 4 months is an intensive program where we will meet 2 times a week. You will learn all of the information needed in order to deepen your own practice and techniques to teach others. If you wish to teach yoga after those 4 months, then there are an additional 4 months after where you will practice teaching on your own. After you have completed the 8 months, you could be certified to teach. This unique method will take your practice to the next level, and equip you to help guide others through the world of yoga.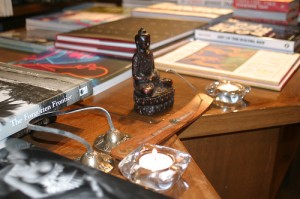 Starts: Thursday, January 23, 2014 – May 11, 2013
Schedule of Training: Thursdays from 6-9pm, Saturdays from 9:00am-12pm and 2pm-4pm + 2 minimum classes required taught by Rina per week.
Tuition: $3,050.00 (If paid in full.)
Payment Plans available below. Payments are non-refundable and non-transferable. Minimum 8 people needed, Maximum 15 people allowed in order to ensure quality not quantity.
Option A: Tuition of $3,050.00 per training is payable upon acceptance into the program ($1000.00 deposit is due by January 9, 2014.) Remaining Balance of $2,050.00 by January 23, 2014.
Option B: 2 (two) installment payments of $1075 each (due Jan. 23 and February 23) + $1000 deposit (Total $3,150.)
Option C: 3 (three) installment payments of $750 each (due Jan. 23, Feb. 23 and March 23) + $1000 deposit (Total $3,250.)
(Late fees apply.)
Heidy and her Advice!
Yoga Teacher Training Applications

To process your application, please send the application at least two weeks before the start date of the program.
Enrollment is limited, so we recommend that you submit your application as soon as possible. We may accept last minute applicants if space is available.

Be sure to complete the following:

1- Primary application

2- Program Participation Agreement

3- Payment Sign-up Form

4- Short essay about why you want to take this training

.

You may email us with the subject line "Application for Teacher Training" to info@rinayoga.com. You can either fill out the information needed below or ask us to reply with an attachment of this form. We will need to send you the other two forms via email.
Curriculum
Asana Principles
-You'll be able to teach many styles of yoga with the knowledge you will gain in this training. You'll be able to teach Hatha, Vinyasa, Yin, Restorative, Kids, Prenatal, Seniors, and more.
Detailed analysis of poses, including their benefits and contraindications.  The importance of proper alignment, your foundation, the action of the poses and how to achieve it by simple, logical techniques.
Pranayama
-Insights as to the intrinsic role of the breath in the practice of yoga. Presentation of various breathing techniques and how to integrate them into a class.
Meditation and Bandhas
-Introduction to the practice of meditation and its benefits. Locating the bandhas in the body, learning how to engage them and understanding why they matter in asana practice and beyond.
Anatomy
-Understanding the mechanics of body as it relates to motion. Preventing injuries through proper alignment and working with existing injuries by offering alternatives to poses. Overview of the chakra system, the importance of the energy body and how it affects your daily life.
Teaching Methodology
-Using Rina's own Teaching Tool Kit, we will learn an in-depth exploration of essential teaching principles such as active listening, positive communication, detailed observation, and intuitive guidance. Attention to individual learning styles in order to meet the needs of all students. You will get 3 additional months to practice teaching before you are able to get certified.
Yoga Philosophy
- We read through the Yoga Sutras of Patanjali together as a group. After each sutra is read, we discuss it as a class.  This lends itself to being a very interactive and experiential process.
Extending the benefits of yoga practice beyond the mat by applying philosophical principles in daily life. Emphasis on compassion to the self and other. In-depth analysis of the Yoga Sutras of Patanjali and introduction to mantras and chanting.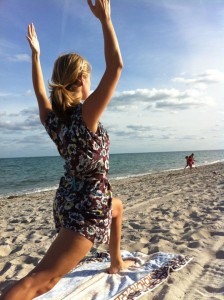 TESTIMONIAL FROM 2012 TRAINEE EMMA GALLER:
"This teacher training goes way beyond poses and breathing. Rina puts you face to face with yourself–but what and how much you see is up to you. How close are you willing to look inside? Learning to observe yourself and making mindful choices based on what you see are the first steps in deepening your practice. By doing so, you will be able to observe your students and respond to their needs to make your class a wonderful experience. Whether or not you're planning on teaching yoga, this awareness goes way beyond the mat. Again, only to the degree that you're willing to take it.
You may find yourself looking at the relationships, habits and activities in your life with new eyes. All of sudden you will notice discomfort in the routines that make up your comfort zone. The beautiful thing is at the same time you're opening up a fresh and exciting set of possibilities for yourself. Absolutely it is scary. You might be hesitating just reading this.  Don't! In the words of my fellow trainee, "Decide that you want it more than you are afraid of it." Use this opportunity to go all in. You have the invaluable support of your family of trainees.
When you feel yourself pulling away, resisting the changes, remember that obstacles are the surest sign of growth. I once read, "Anxiety is a glimpse of your own daring." Be bold! Share what is on the tip of your tongue. Ask the question you're not asking. There was some longing in your heart for this experience. Honor that longing and commit to exploring with a real sense of curiosity about yourself and your practice. You'll be so glad you did. Namaste'."
Rina Yoga Teacher Training Graduation Requirements
Completion of all asana, meditation, philosophy, and pranayama classes within the 12-week period, ideally taking three to four classes per week.

Attendance to all workshops specifically created for training, plus attendance to training at least 80% of the time (can't miss more than 4 training days.)

Observations and reports of classes at Rina Yoga.

Completion of Karma Yoga (selfless service.)

Completion of a book report from the list recommended.

Maintaining a 75% or higher on all quizzes and tests.

Must make up all of the missed quizzes or tests within one week of scheduled date.

Please note* we do recommend applying for our training especially if you have taken classes at Rina Yoga and have met Rina personally.

All applicants will be required to fill out an application and write a short essay before acceptance into the program.